Before your start, read this
Updated:
This free, step-by-step guide walks you through every step you need to create a website (or a blog) for your business or brand in 30 minutes or less.
Table of Contents
Don't know any code?
No problem – you don't need to.
We wrote this guide specifically for beginners. However, if you have an interest in learning code, read this guide instead (not recommended for beginners).
Scared to make a mistake?
We have covered the most common mistakes people make when building a website, so you can recognise and avoid them.
Though, if you ever get stuck setting up your website, we offer free help.
Worried it's a waste of money and time?
Domain names cost only $10/year and web hosting is $5/mo, but refundable within the first 30 days. In the worst-case scenario, you will have spent $10 developing a new skill set.
The average time to set up a website using this guide is approximately two hours – most manage to build a strong foundation within that time.
Ready to build your website today? Grab a coffee or a tea and let's get started!
Step 1: Register a domain name (www.)
(Some of the links in this guide are affiliate links. We only recommend services and companies we personally use.)
First things first: every website needs a name.
Without a name (also known as a domain name), your website simply cannot function. Think of it as a street address for a house, where the address is the domain name and the house is your website.
By owning a domain name, you'll always have full control over your entire website, no matter what happens.
When choosing a domain name, there are a few rules you should keep in mind:
If you're setting up a business website, your domain name should match your company name, for example, YourCompanyName.com
If you're planning on making a personal website or a personal blog for yourself, then YourName.com is always a great option
Don't get too complicated – most of the more unique domain names were purchased decades ago. Go with something that matches the tone and purpose of your website.
Use this free tool to check if your desired domain name is available:
Check Domain Availability
Where to buy a domain name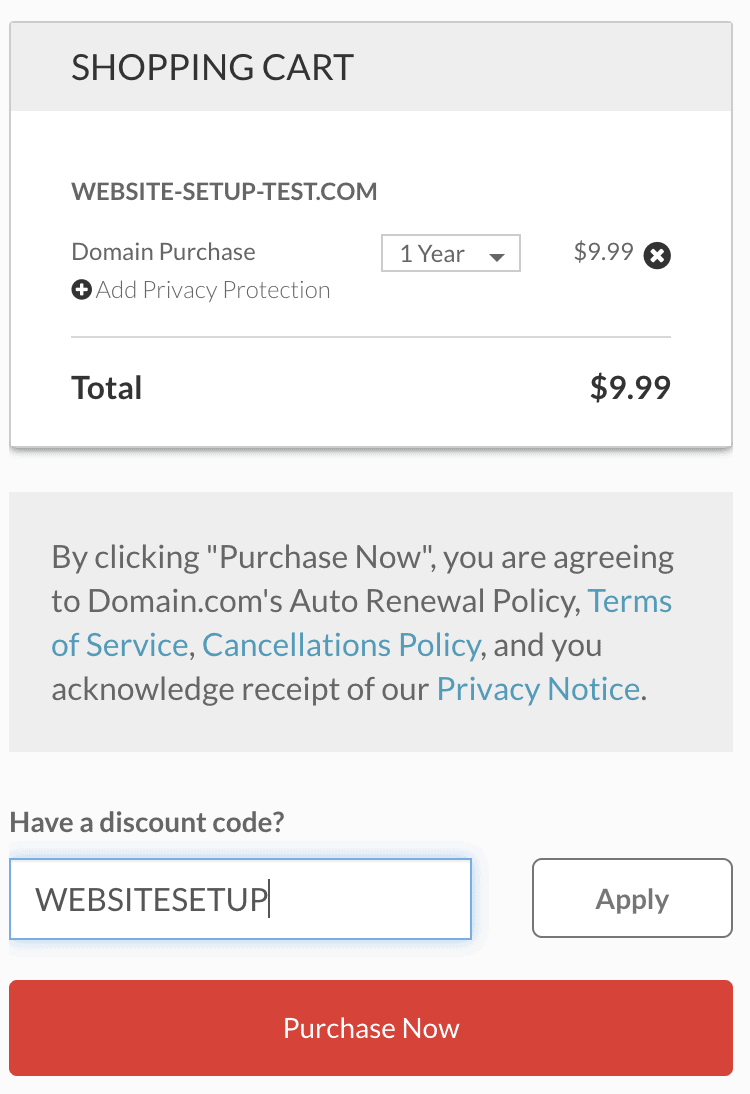 Domains cost around $10/year and renew each year unless you decide to cancel.
You can get a .com, .net, .org, .co.uk, .ca or .de domain name from Domain. Other similar domain registrars you can use are Godaddy and Namecheap.
If you want your domain name ending to be aimed for global population, try registering a .com version. If you are targeting local visitors from Canada or Germany, then choose the .ca or .de extension.
When buying a domain name through Domain.com, use the coupon code "WEBSITESETUP25".
This can help you get a domain name 20% cheaper (.com for $7.99/year).
The registration process is simple and you will get access to your personal domain instantly.
Be aware that there are over 100 million active domain names, so all the best ones are already taken long time ago.
Do not dwell on it too much – you can always buy another domain name (if needed). So get one before it's taken.
Step 2: Get a web hosting account
Congratulations! By now you should have your own domain name.
Don't worry that it's not working because you don't have a website yet.
In order to fix that problem, we'll need a web hosting plan.
Web hosting is a service that connects your website to the Internet and subsequently allows you to manage a website.
Where can I get web hosting? How much does it cost?
Entry level web hosting costs anywhere between $40 – $60/year. Just like any subscription, you can cancel it anytime.
Web hosting service allows you to set up a website easily using pre-installed free website building platforms (WordPress, Drupal and other website builders).
Luckily, if you registered a domain name through Domain.com, you can get web hosting plan from them as well. Simply log into your account then look for "web hosting" and sign up with their service (costs $45/year).
Alternatively, if you want to save some money or you bought your domain elsewhere, you can use Bluehost as your web hosting provider (costs around $40 for 12-months).
Bluehost will activate your hosting account immediately and you can start building a website on your own domain name.
The registration is straightforward, simply go to Bluehost.com and click "Get Started Now". We also made a step-by-step guide for getting a web hosting with Bluehost (should you decide to use them instead of Domain.com).
---
Step 3: Set up a website through web hosting
Now it's time to set up a website.
Most web hosting services offer different free website building platforms to create a website. In this example we use WordPress.
WordPress is the most popular free website builder, powering over 40% of all websites on the internet. We've compiled the statistics (1, 2, 3) to exhibit and analyse how websites are being built – WordPress is the clear winner.
Since you already have a domain name and web hosting, you can install WordPress completely free on either Domain.com or Bluehost.com
Option A: On domain.com, you can do it on the left panel by clicking on WordPress: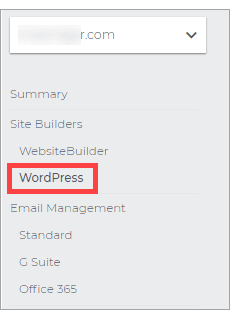 Option B: In Bluehost, all you have to do is click the "Create your website" button.
The next step is to decide the purpose of your site.You can choose between Blog, Store, Business website, or Portfolio site/Resume.
If those don't quite fit your vision, you can select an option in the "Other" dropdown.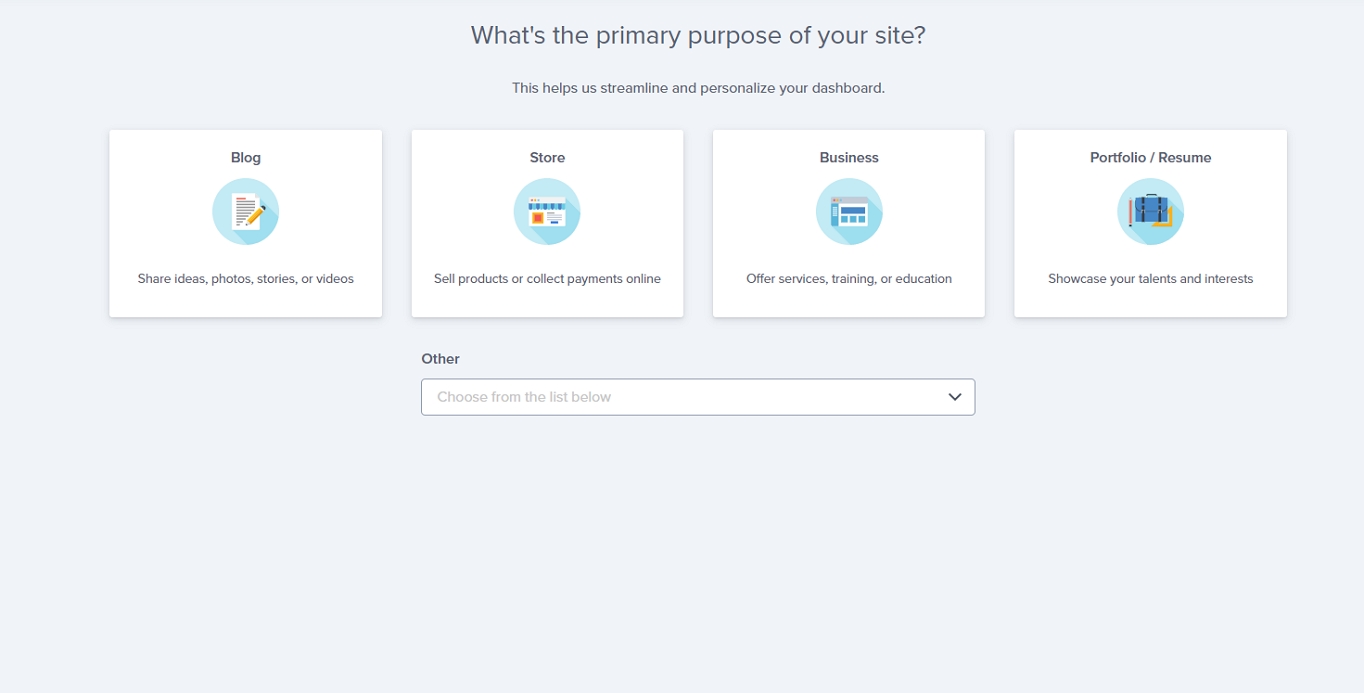 Next up is to choose how you'd like to build your website. Bluehost offers two options: using Bluehost's own website builder, or WordPress.
Since we want to use on theme-based site building platform, we have chosen WordPress.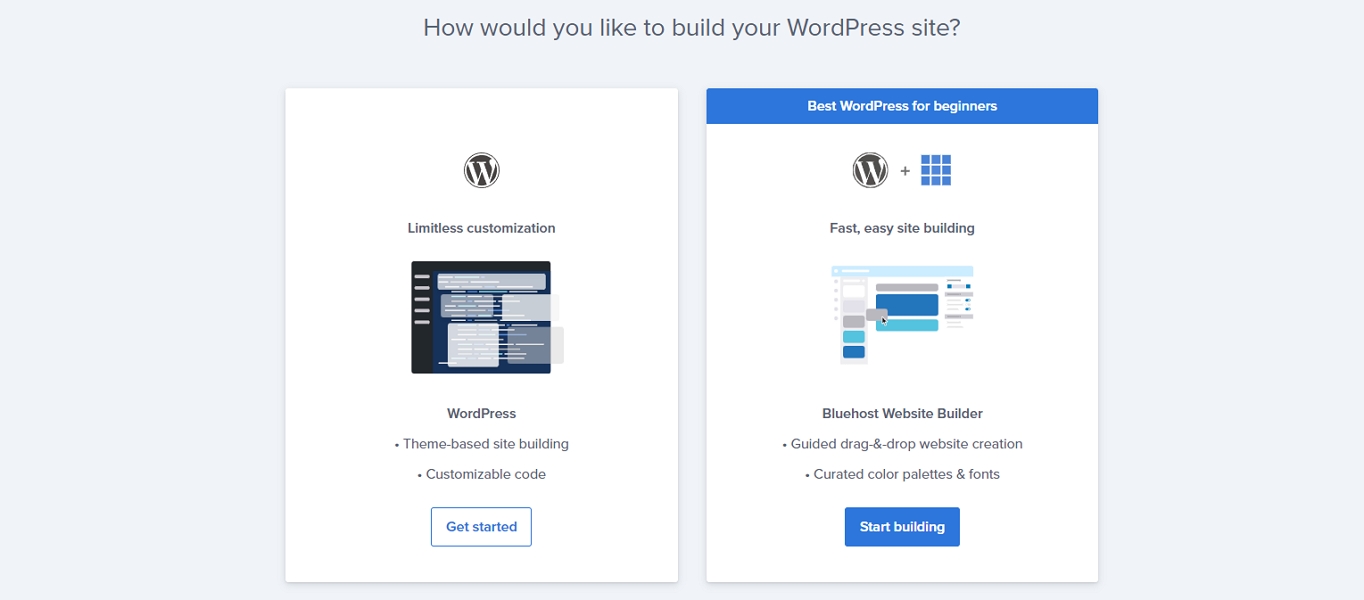 Click "Get started" and your WordPress installation process starts.
Once the installation is completed, you need to log in to your WordPress dashboard.
Right now, what's important for us is to start customizing the new WordPress site and for all you need to do is click on the "Customise site" button.
On the left sidebar, you'll see options that will allow you to modify your website's design, such as:
Title and tagline
Site logo
Fonts
Colors
Sidebar and much more…
Note: the options that appear will vary depending on which theme you've installed. We recommend playing around with the drag-and-drop editor and experimenting with different fonts and colour schemes to hone your desired aesthetic.
Once you've tweaked your site's design to perfection, it's time to move on to pages and content.
Step 4: Add Pages and Customise Your Website
By now, you should've successfully set up a WordPress site – the foundation of your site has been built, and now it's time to really start fleshing it out.
The first step is to build out the pages that you're going to need the most. We've thrown together a list of the most popular pages most business websites have:
Homepage
About us
Contact page – here, you can add your social links (Facebook page, Twitter, etc.)
Our services/products
Blog
Gallery
Testimonials/reviews
If you're unsure what your website should include, read this article about the 12 critical elements that every site needs.
Once you've decided on your pages, it's time to start adding them to your website. For this, you'll also need to set up a navigation system for your site.
Part 1. Add new pages in WordPress
A blank website without any pages or content isn't of much use to anybody, so in order to make the website accessible and interesting, we need to add some pages and blog posts.
To add pages to your WordPress site, navigate the left-hand menu to "Pages", and from there click the button "Add New".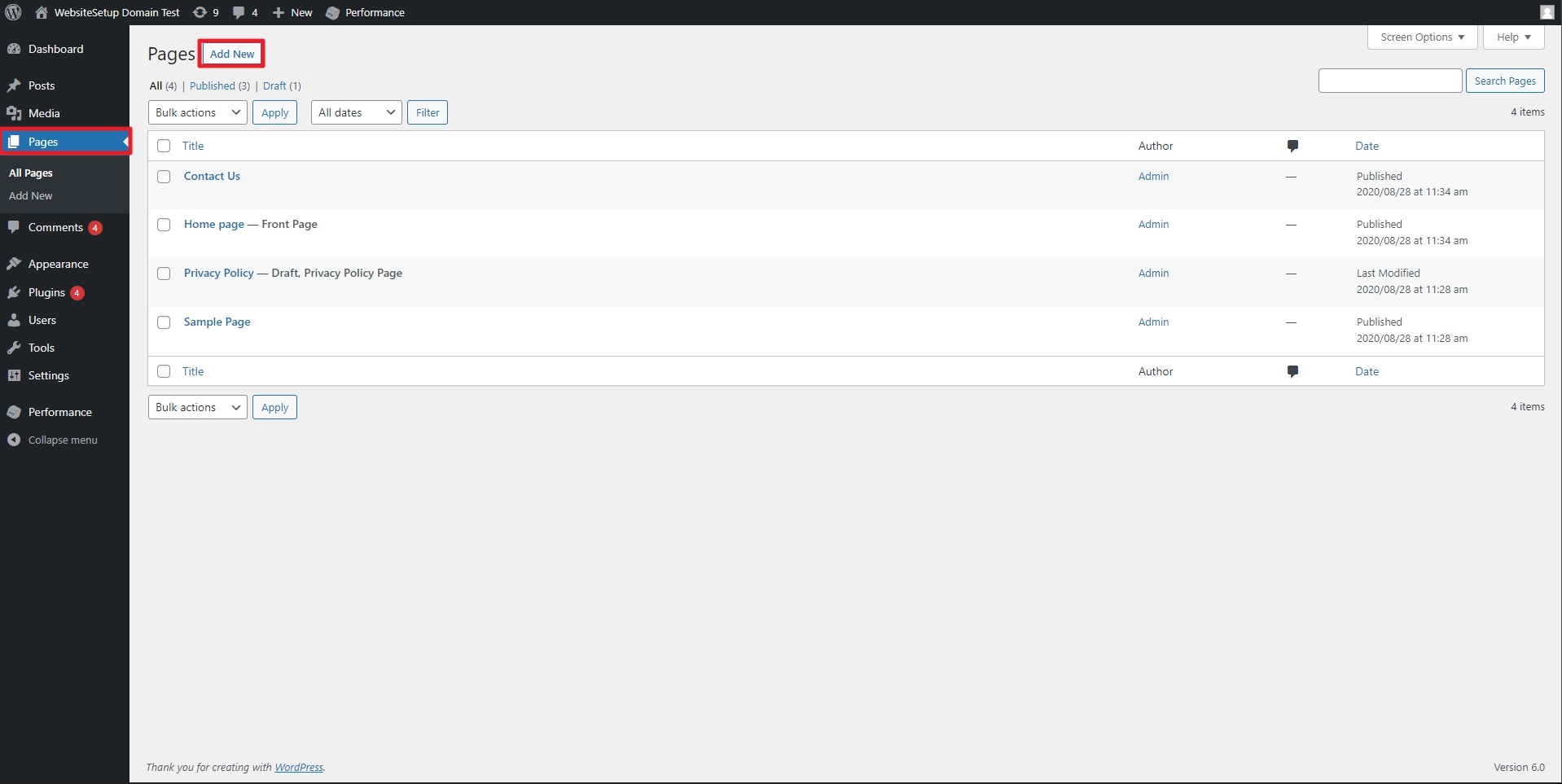 This will take you to the WordPress block editor – also called the Gutenberg Editor.
If it's your first time visiting this, then it will display a quick step-by-step tutorial on how it works and where certain functions are located.
It's quite easy to work; everything is block-based, which means if you want to add something to your page, you simply need to choose the correct "block" from the menu and fill it in.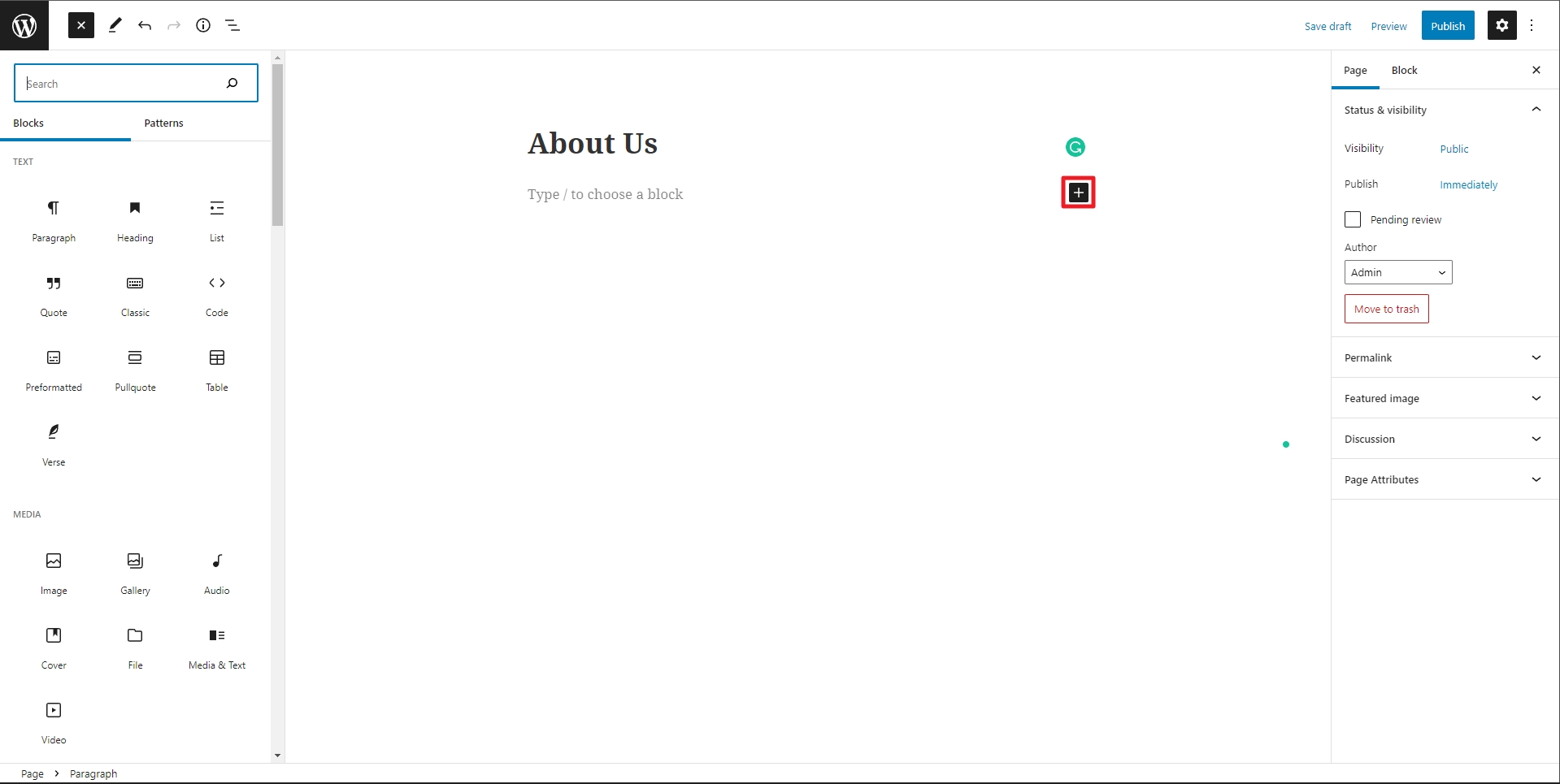 On the left, in the content block section, there are multiple content options to choose from. Each serves a different purpose and adds a different visual element to the page.
Alternatively, the right-hand menu allows you to change some page-wide settings, like the author, the page's permalink (URL), the featured image, and more.
Or on the top of the right-hand menu, you can click on the "Block" tab and customise the settings for each of the blocks you've selected on the page.
Once you're happy with the page, you can either choose to make it public or private. The former will make the content visible to any visitor, while the latter means that it is only visible to you via your website dashboard – this is a useful option to use when still working on a particular page.
There's also an option to preview the changes you've made or to schedule a date and time for the page to be published.
Part 2. Organise your website navigation
Now that you've created the pages, you need time to add them to the navigation bar.
This is the menu located throughout your website that provides visitors with access to the rest of the content.
To customise your navigation system, click the "Appearance" tab on the left-hand column followed by "Menus".
The name of the menu doesn't matter since this is only visible to you, but be sure to tick the box stating that this is your primary menu.
After you've created the menu, you can start adding and organising the pages there.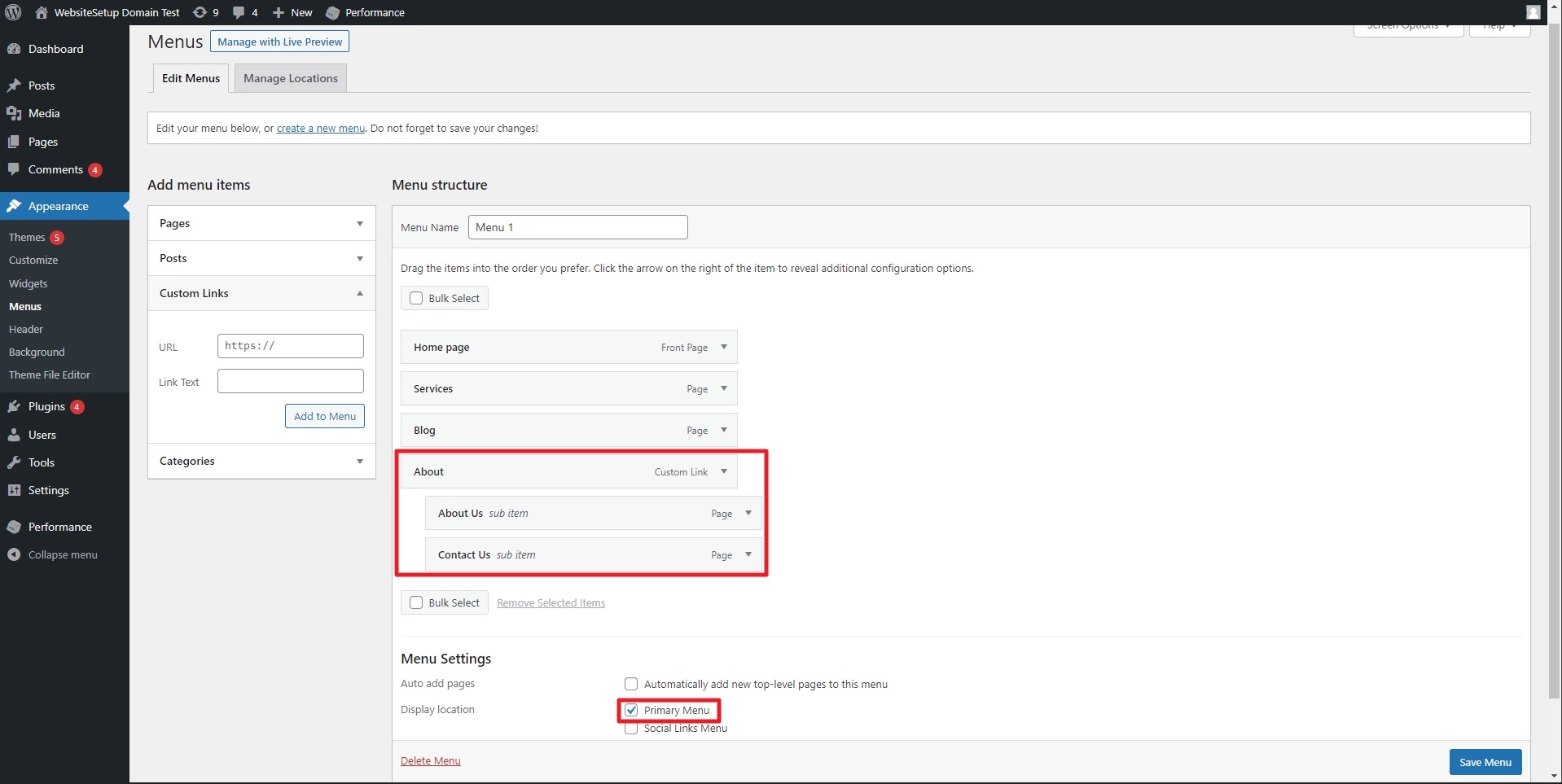 You can also create sub-items, meaning that pages will be revealed when a user hovers their mouse over them.
For example, here, we've done that by adding "About Us" and "Contact Us" under the "About" category.
Part 3. Change/Add new themes and layouts
To customise your site, navigate to your WordPress dashboard and select "Appearance" from the left-hand menu.
Here, you can tweak your website's theme, add and change widgets, customise your menu's structure, and so on.
Essentially, every change that you want to make on your website can be done through the "Appearance" tab.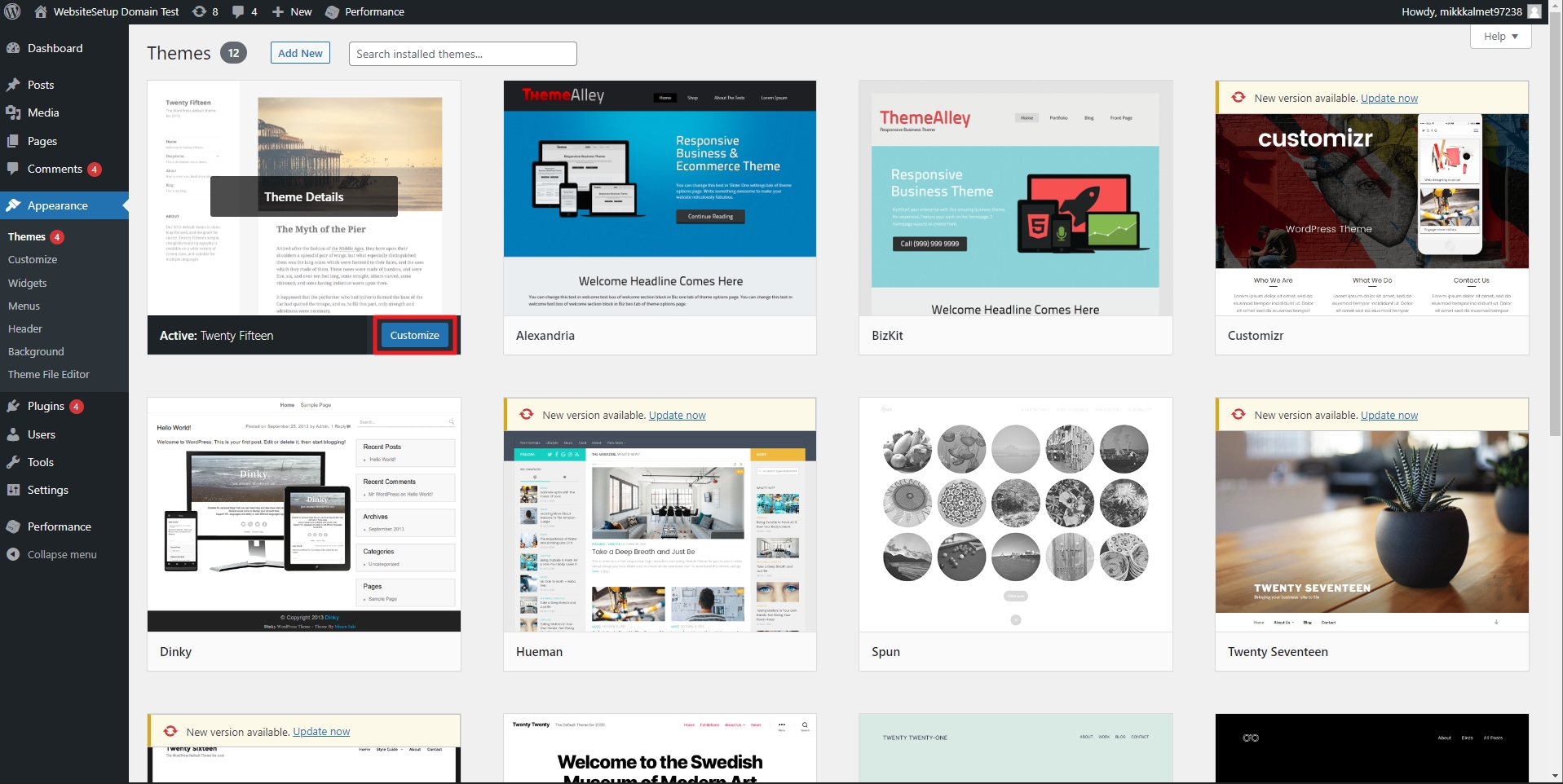 Also, if you feel comfortable with coding, you can even add custom CSS to fully personalise your site.
Part 4. Adding blog posts (optional)
While adding a blog is optional, creating one is often a good idea. It provides a channel in which to publish fresh content, demonstrate your professional expertise, and provide additional value to your website's visitors.
It's also a good idea to have a dedicated blog page and keep your homepage static.
To do that, create an empty page (Pages > Add New), name it "Blog" (or a suitable alternative – "Blog" makes sense because it will automatically create the address: yoursite.com/blog), and publish it.
Then, pick it as your "Posts Page" either under Appearance > Customise > Homepage Settings, or under Settings > Reading.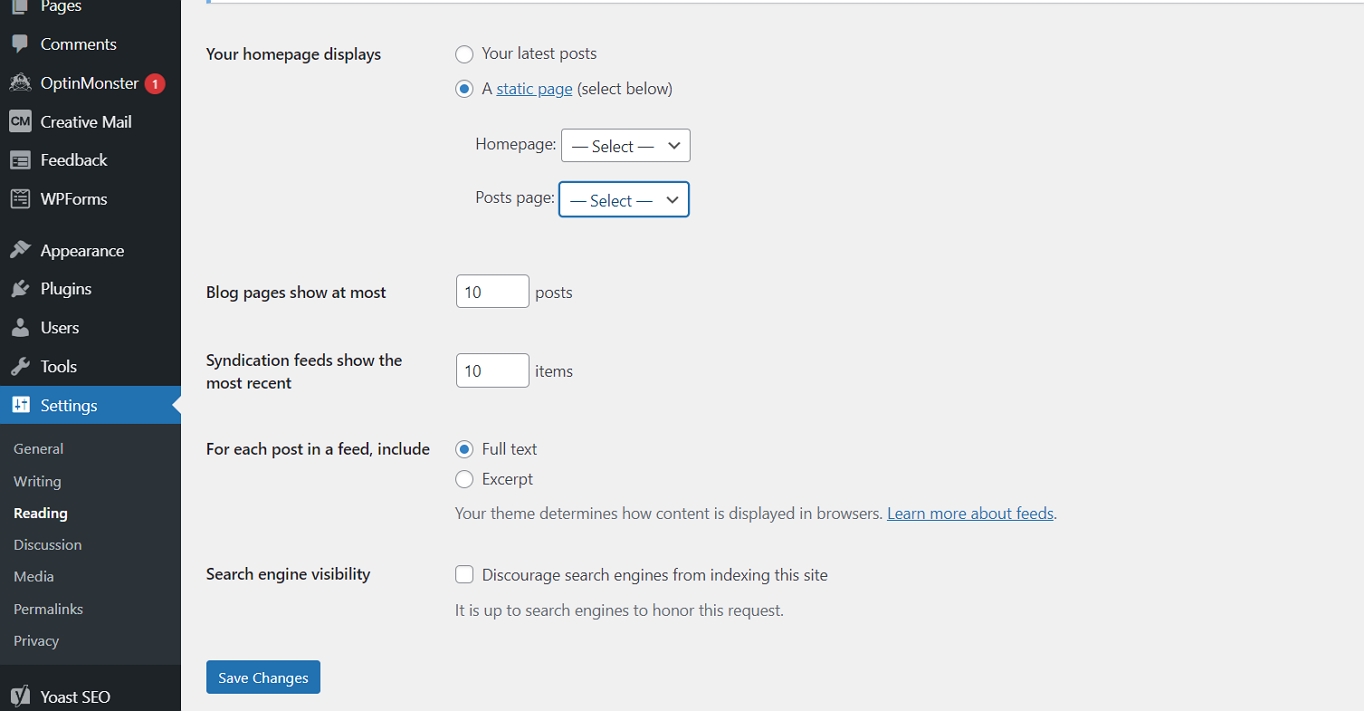 Your chosen page will automatically display all blog posts when you save them – be sure to include the page in your navigation menu.
Once set up, you can start creating your blog posts. This can be done via "Posts" and "Add New".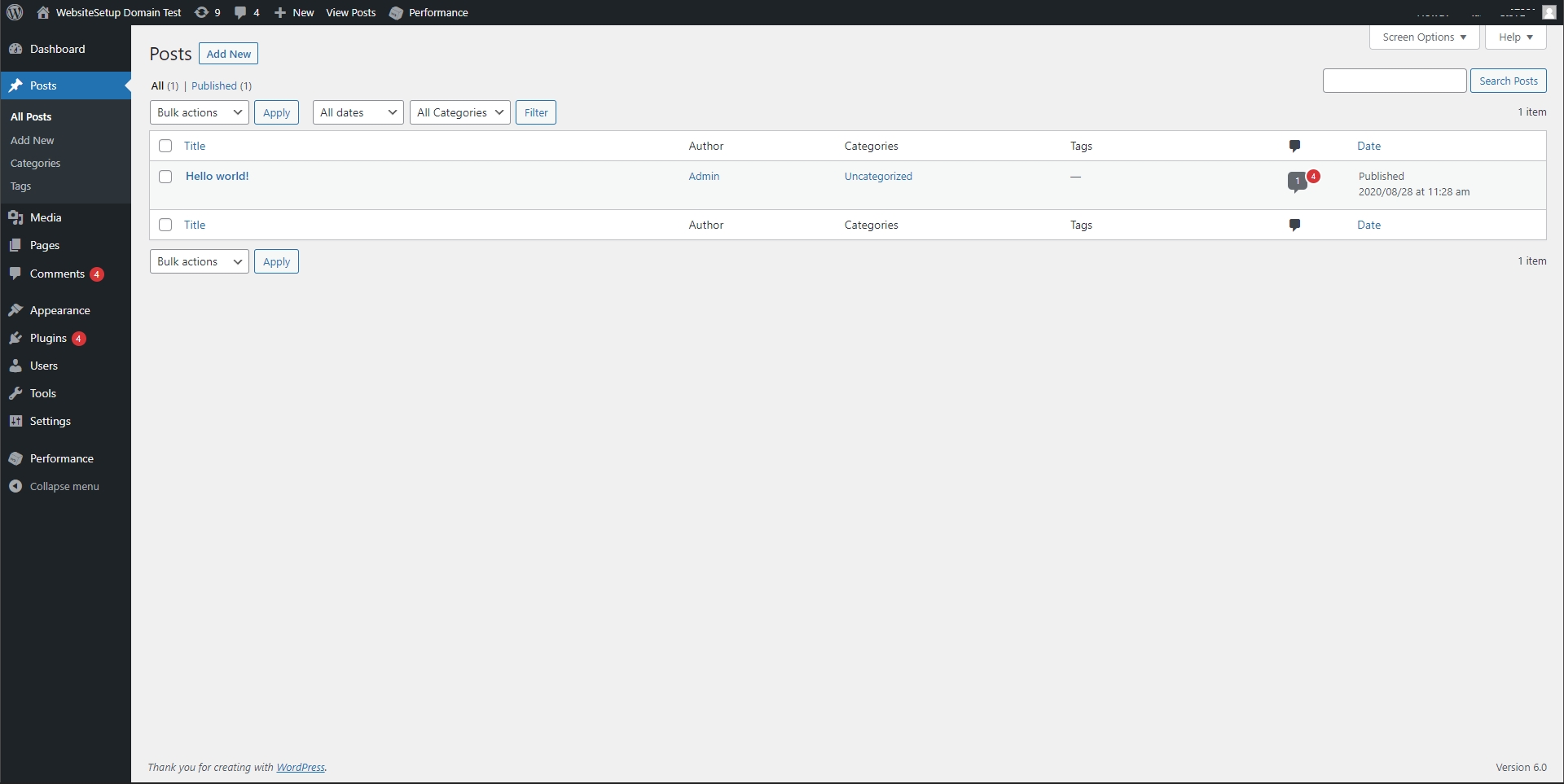 After you click "Add New", you'll be redirected to the editor page where you can start writing and customising your content.
Add images, writing, a title, and anything else needed for the blog post. In the right-hand sidebar, you'll also find options to apply categories and tags, define an excerpt, and set up a featured image – these functions improve your page's discoverability and categorisation.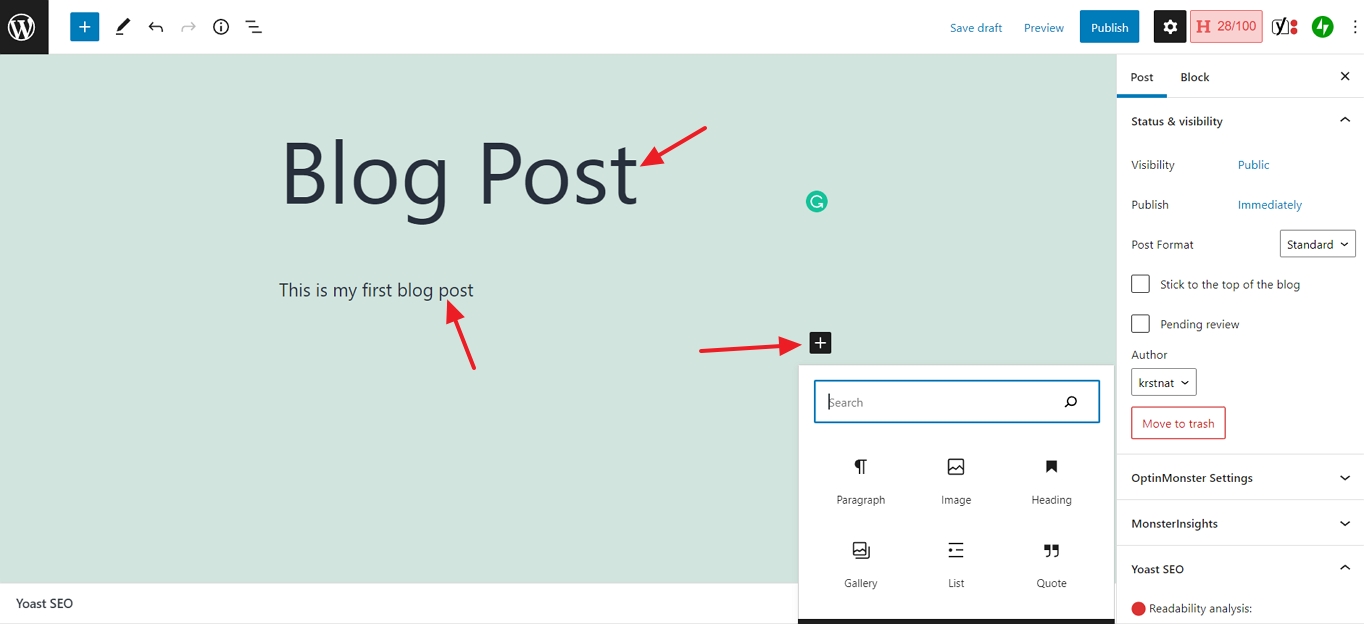 Once you're done, click "Publish", and your post will appear under the dedicated blog page.
Last, but not least, connect your website to Google Search Console
Google Search Console allows you to track visitors to your website from the search engine, and also gives you a better idea of what kind of content is most popular.
GSC also gives you an overview of your website's health. It's a helpful, free tool for gaining insight into your website.
Setting up the tool shouldn't take more than ~10 minutes. Here's a step-by-step guide for that.
Congratulations! By now you should have a fully working website. If you have any questions about this guide, do not hesitate to contact us.